How does a vehicle history report work?
Car dealers will always run a vehicle history report on your trade-in before they buy it from you, so why wouldn't you do the same when buying used from them or a private party?
Before you try to get a deal on a used car, it's essential that you get both a vehicle history report and a car inspection, even if the car is certified.   With a vehicle history report (also known as a used car history report), you'll be able to tell if the car has been in a major accident, recalled, storm or flood damaged, in a fire, or stolen.
Finding out if the car has been misrepresented before you buy will save you major headaches and is well worth the small price of the report.  If you do find something wrong with the car but still want to buy it, you can use the vehicle history report to your advantage in negotiations.  Simply point out the flaws and demand the price be lowered.  Demand is a strong word, but warranted in this case because you've likely found a major defect that was covered up or overlooked and should be reflected in the price.
Find out what your car is worth using Edmunds. 
How does a Vehicle History Report Work?
You can run a report to get the history of any car once you have the vehicle's unique Vehicle Identification Number (VIN).  This is a 17-digit number that's unique for every car, like a fingerprint.
Where to Find the VIN of the Car
Most used car listings will include the VIN, but you can always ask the seller if you don't see it.  For your own car, the VIN can be found on the title document, the vehicle registration, and on the insurance policy. The VIN can also be located at the following locations on the car itself: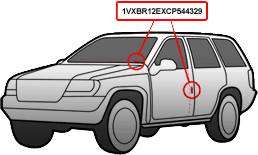 On the driver's side dashboard (viewable through the windshield)
On the driver's side door (on a sticker in the door jamb)
What does a Vehicle History Report tell you
Whether an accident has ever been reported on the vehicle
Total number of previous owners
Any police reports available
Any major accidents
Recorded mileage when the vehicle has changed hands (to help detect odometer fraud)
If the car was ever reported as a lemon
Any manufacturer recalls
If the car was ever used as a fleet or rental car
Where do I get a Vehicle History Report and what's the cost?
You can quickly get one online. There are three main providers, Carfax [review], Autocheck [review], and VinAudit.  I suggest using VinAudit because they're the cheapest and return the best results for finding out about title washing (cars that were sold in another state to hide the fact that they were salvaged).
For a single report on one car, it's:
$34.99 at Carfax
$29.99 at Autocheck
$9.99 at VinAudit
For reports on multiple cars, it's:
$44.99 at Carfax (for 5 reports)
$44.99 at Autocheck (for unlimited reports)
$19.99 at VinAudit (for 5 reports) or $29.99 (for 10 reports)
In addition to a used car history report, it's also important to get a car inspected by a certified mechanic.  This will cost a little more, but will help you catch any other issues that were not reported.
Remember this used car buying advice:  Both a vehicle history report and inspection by a certified mechanic will significantly reduce your risk when buying a new car. And also remember to use an auto escrow service.